Clifden Connemara Pony Show (Festival of the Connemara Pony)
Thursday 20th August 2020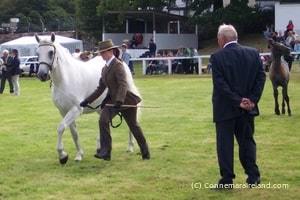 Thursday 20th August 2020
Connemara Pony Breeders Society
Clifden Connemara Pony Show (Festival of the Connemara Pony)
The highlight of the week is the Connemara Pony Show on Thursday, this is a world famous event attracting visitors from all over the world. With a history dating back to 1924, there are over 400 ponies on show. It is the largest display of Connemara Ponies anywhere in the world.
Visitors are treated to the spectacle of seeing the ponies demonstrate their prowess in trials and competitions under the watchful eye of experienced judges and a win is always a source of great pride for the pony's dedicated owner.
The Connemara Pony is a distinctive breed with excellent qualities: strong, intelligent and very hard working, perfect for the wild unforgiving landscape of Connemara, the Galway region that gave them their name. Their genial disposition makes them excellent pets while their powerful build makes them good jumpers and great show ponies.
Clifden Connemara Pony Show (Festival of the Connemara Pony)
Phone

Address

Clifden, Galway

Google Maps Directions
---
This event listing is compiled for informational purposes only and is correct at time of publication. All event information may be subject to change by the organisers and you are advised to contact the organisers directly for the most up to date information before you travel. ConnemaraIreland.com cannot be held responsible for any alterations to the listed information.