---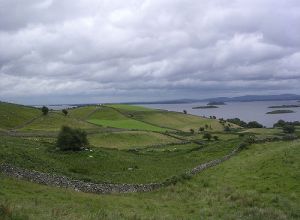 Maam Cross is a meeting point of several of the roads that traverse the different parts of Connemara.
The route from Oughterard to Maam Cross (10 miles/16 km) lies through countryside that presents an amazing variety of bog, moorland, lake and mountain scenery.
Southward from the cross a road runs through lake-strewn moorland to Screeb Lodge and Gortmore. At Gortmore the road on the left leads to Rosmuc, where the author and 1916 leader Padraic Pearse studied the Irish language (his cottage here is open to the public).
There is real Connemara scenery here for the walker, cyclist or climber. At Maumeen is 'St. Patrick's Bed' and 'St. Patrick's Wall', which attracted a local pilgrimage on the last sunday of July.
Nestling in the shadows of Mount Leckavrea and surrounded by beautiful lakes, Maam Cross leads to the four quarters of Connemara. Just 22 miles from Galway City and Is an ideal base for Hill Walkers, Cyclists and Botanists while Golfing, Horse Riding, Fishing and Water Sports are also available locally.