---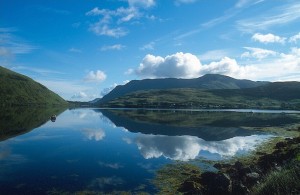 Leenane is situated near the head of Killary Harbour. It stands at the west end of the Partry mountains and is dominated by the Devil's Mother (650m) about which many legends have been woven. The highest peak in Connacht, Mweelrea ('The Bald King') towers over the water which is now used for mussel-farming on rafts.
The village of Leenane is an angling resort and an excellent centre for the mountain climber. The Joyce Country, an area extending east from Leenane, to Lough Corrib and Lough Mask, takes its name from the Joyces who settled there in the thirteenth century and whose name is still common in the district.
This beautiful village is an ideal centre for exploring an area of magnificent scenery.
Some 5 km west, on the scenic coast road to Louisburgh, is the beautiful Aasleagh waterfall, on the Erriff River, famous for its salmon and sea trout and recently acquired on behalf of the State by the Central Fisheries Board.
Leenane is a convenient centre for walking and cycling tours of this beautiful region.
A film adaptation of John B. Keane's famous play 'The Field', directed by Jim Sheridan, was made in Leenane in the early 1990s. The film and play were based on a true story of a battle for land in Kerry between a local man and an outsider which ended in murder. In Leenane you can visit the pubs and shops that were used as sets in the film.
Select attractions and activities in Leenane below:
---
---
---