---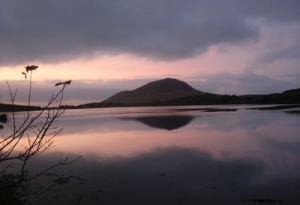 Letterfrack, 5 km beyond Kylemore, is an enchanting village on Barnaderg Bay, which was founded by the Society of Friends (the Quakers) in the 19th century as one of a series of mission settlements along the north Connemara coast. There are wonderful bathing strands, while Diamond Hill (445m) offers excellent views of the surrounding countryside. 1.5 km to the west, the summits of Rosleague Hill (50m), and two other hills, are marked with ancient pillar-stones.
This thriving little village is home to Letterfrack Furniture College an internationally renowned furniture design college.
Connemara National Park Situated near Letterfrack this 1,540 hectares park is of outstanding scenic and ecological value. The Commissioners of Public Works have been acquiring land in the Kylemore/Letterfrack area for almost a decade, and it is hoped to increase the area of the park in this way.
The park visitor centre contains an exhibition of the various features of the park, a lounge/rest area, toilet facilities and an audio-visual room, for slide shows. Short-distance walks have been laid out, while the more energetic visitor can explore further into the rugged Connemara countryside. The National Park is open to the public all year round. There is a hostel at Letterbrack where it is possible to camp and hire bikes to explore the very scenic surrounding countryside. Boating and sea-fishing are available locally.
Select attractions and activities in Letterfrack below:
---
---
---