---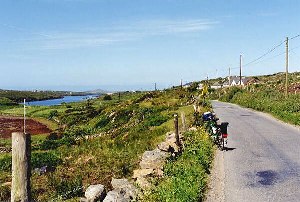 Claddaghduff is situated northwest of Clifden, the gateway to Omey Island. Claddaghduff, now mostly depopulated, has a lot of history to offer. If time permits, a stroll to the northern part of the island to see the ruins of Teampal Feichin, a medieval granite church dedicated to St. Feichin, is a rare pleasure. The sea views are breathtaking; the blue/green ocean continually washes the distant shorelines in.
This place has always had appeal for writers and artists notably the poet Richard Murphy who lived here for some years and for whom local lore and landscape/seascape inspired his work. Novelist John McGahern also resided here.
The whole area is rich in archeological sites, be it the remains of the 7th century AD church of St. Feichin on Omey island, the wedge tomb near Sellema beach or the fairy hills (drumlins) of Sheeauns. There's deep sea angling, lake fishing, boat trips to Inishturk and Inishbofin, pony trekking, pitch & putt, dive sites, beaches and more beaches.