---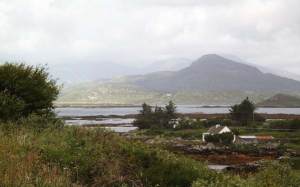 Carna is a small quiet village by the coast; a pleasant holiday resort for walkers, cyclists and anglers.
An important lobster-fishing centre. From here is a short detour to Maoinis (Mweenish) 5 km to the south, an island linked by bridge to the mainland. It has beautiful sandy beaches and is the site of a marine biology station operated by University College, Galway.
From here one can see, due west, the isolated Oileán Mhac Dara (Mac Dara's Island) This is the most famous of the many, now largely uninhabited, islands along this coast. It has the ruins of a church and the bed (grave) of Saint Mac Dara.
Mac Dara is greatly honoured by the people of lar-Chonnachta. In the time of sailing boats, the fishermen used to dip their sails three times on passing the island.
A three- day festival, Féile Mhic Dara, is held annually in July, in Carna; it features hooker and currach races, sea-angling competitions, art and craft exhibitions, children's competitions, céilithe etc.

Carna is situated at the head of Iorras Aintheach Peninsula and is an ideal place from which to explore this vast area of rocky hills, lakes, endless shorelines with fine sandy beaches and islands.