Festival of the Connemara Pony
Wednesday 19th August 2020

–

Saturday 22nd August 2020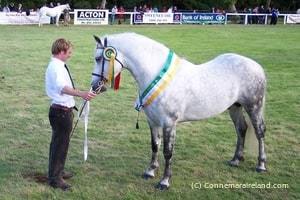 Wednesday 19th August 2020 –
Saturday 22nd August 2020
Connemara Pony Breeders Society
Festival of the Connemara Pony
The Festival of the Connemara Pony is a celebration of the Connemara Pony breed with week-long activities.
The Connemara Pony is a distinctive breed with excellent qualities: strong, intelligent and very hard working, perfect for the wild unforgiving landscape of Connemara, the Galway region that gave them their name. Their genial disposition makes them excellent pets while their powerful build makes them good jumpers and great show ponies. The annual Connemara Pony Festival & Show attracts visitors from all over the world.
The highlight of the festival is on Thursday and Friday, when the biggest showcase of Connemara Ponies in the world takes place. Ponies compete in in-hand classes, ridden classes, working hunter classes, and in a puissance competition. Visitors are treated to the spectacle of seeing the ponies demonstrate their prowess in trials and competitions under the watchful eye of experienced judges and a win is always a source of great pride for the pony's dedicated owner. For non-pony enthusiasts, there is a dog show, a domestic arts show and Irish Dancing.
Wednesday 19th August
International Performance Hunter (Team event)
Final of Irish Green Hunter (please refer to list of qualifiers for qualifying shows)
Family Working Hunter
Final of 3 Year Old Loose Jumping (please refer to list of qualifiers for qualifying shows)
Final of 4 Year Old Performance Mare (please refer to list of qualifiers for qualifying shows)
Thursday 20th August
The ridden (flat) and in hand classes will take place on Thursday
Dog Show
Best Dressed Lady competition & most Appropriate Dressed Gentleman
Irish Dancing
Domestic Arts
Friday 21st August
Working Hunter classes (pre entry)
Final of Clifden High Performance (please refer to list of qualifiers for qualifying shows)
Puissance (pre entry)
Parade of Champions around the town of Clifden
Festival of the Connemara Pony
Phone

Address

Clifden, Galway

Google Maps Directions
---
This event listing is compiled for informational purposes only and is correct at time of publication. All event information may be subject to change by the organisers and you are advised to contact the organisers directly for the most up to date information before you travel. ConnemaraIreland.com cannot be held responsible for any alterations to the listed information.