Omey Races
Sunday 2nd August 2020

–

Monday 3rd August 2020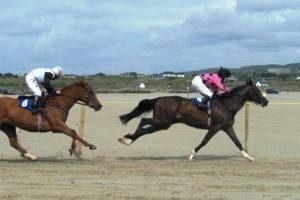 Sunday 2nd August 2020 –
Monday 3rd August 2020
Omey Races
Omey Races 2020 (horse racing on the beach) on Omey Strand.
2020 First Race commencing a 1 pm.
Please Note:This event will take place on Sunday OR Monday, final date to be confirmed.
Omey is a tidal island located near Claddaghduff, a few miles from Clifden, in the western edge of Connemara. There is a route across the sand to the island and, at high tide, the water is deep enough to cover a car. To help in the last moments before the water becomes too deep, there are conventional street signs to indicate the highest route.
The start time depends on the tide but usually around noon and, of course, the finish time also depends on the tide.
For up to date information see the Omey Races Facebook Page.
---
This event listing is compiled for informational purposes only and is correct at time of publication. All event information may be subject to change by the organisers and you are advised to contact the organisers directly for the most up to date information before you travel. ConnemaraIreland.com cannot be held responsible for any alterations to the listed information.