Ballyconneely Pony Show
Sunday 19th July 2020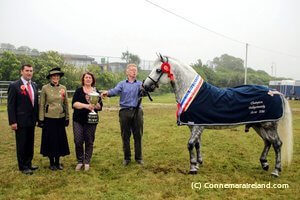 Ballyconneely Pony Show
Held on the third Sunday in July, 2020 is the 35th year of the Ballyconneely Pony Show. Taking place in Ballyconneely, Co Galway, a beautiful part of Connemara renowned for its breeding of the celebrated Connemara Pony, its many attractions make it a great day out for all the family.
The event is one of the largest in the area, attracting many breeders and ponies; there were more than 340 entries last year, making the show the second largest of its kind, and every year it just keeps getting better.
With the added attractions of a dog show, a craft show and even a bonny baby competition, there is so much on offer for young and not so young.
The show is also a great opportunity for those wishing to buy a pony, and many are sold on the day. So whether you're buying, selling or are just there for the enjoyment of it all, the Ballyconneely Pony Show has something for everyone.
Ballyconneely Pony Show
Phone

Address

Ballyconneely, Galway

Google Maps Directions
---
This event listing is compiled for informational purposes only and is correct at time of publication. All event information may be subject to change by the organisers and you are advised to contact the organisers directly for the most up to date information before you travel. ConnemaraIreland.com cannot be held responsible for any alterations to the listed information.