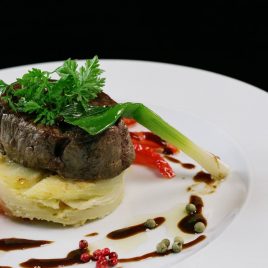 In our Beola restaurant we offer a Table D'hote set menu alongside an extensive a la carte menu with a focus on local produce especially local seafood.
We offer a full range of locally sourced seafood including oysters and lobster. Smoked wild salmon with freshly landed sea fish such as hake, halibut and cod also feature on our extensive menu.
We also offer a lunchtime snack menu with freshly made soup, chowder and an assortment of sandwiches, wraps and Paninis.
There is a vegetarian option on our menu each day.