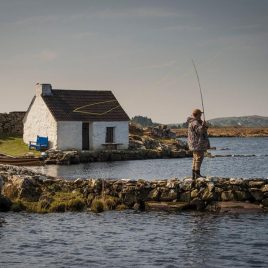 The Screebe Fishery is six miles south of Maam Cross, County Galway, at the head of Camus Bay. It consists of an inter-connected series of loughs and a short river. The fishery is famous for its stocks of pike, salmon, brown trout and sea trout.
Screebe offers its guests exclusive fishing on countless lakes and rivers and will provide the necessary permits. These waters abound with salmon, brown trout and sea trout.
Whether you are a fly fisher or a deep sea angler you will find everything you could wish for. Screebes own traditional fishing boats will provide the perfect ambiance to while away your day. We can also provide a gillie (professional guide) for your fishing tour.
The Screebe Fishery is a privately-owned series of lakes connected by small rivers, with good runs of spring salmon, grilse and some sea trout.
The lower fishery fishes in any water, as salmon can access the lake on high tides and do not need flood conditions to run. The upper fishery fishes best after a spate. Numbers fishing are strictly limited, and beats are rotated.