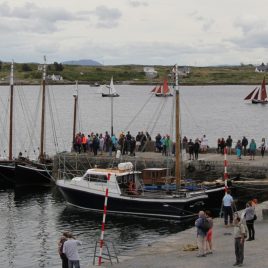 Roundstone village is one of the most attractive small fishing villages in the west of Ireland. The harbour is very sheltered and can be used even at the lowest point of the tide.
Pat Conneely has been fishing this area and beyond for over 15 years and is one of the most experienced and respected charter skippers in the west of Ireland. He regularly features in the annual records for Ireland as the highest catch skipper for his specialty – the Blue Shark.
The boat is a "Lochan 40" with twin Volvo engines and a top speed of 22 knots and a cruising speed of 16 knots.Lady Marlyn Fast enough to get to the fishing ground quickly and comfortably.
The Lady Marlyn can accommodate 12 anglers in comfort and the cabin has seating for the same number.The boat also has a galley and toilet.