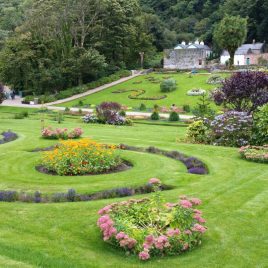 At Kylemore Abbey and Victorian Walled Garden, there is so much for all the family to enjoy. Visit the restored rooms of the Abbey and learn about its history and tales of tragedy and romance.
Explore the 6 acre Victorian Walled Garden with its magnificent restored buildings. Discover woodland walks, lakeshore walks, nature trails and childrens play trail throughout the 1,000 acre estate.
The beautiful Gothic Church is a short walk from the Abbey, nestled nearby is the Mausoleum where Mitchell and Margaret Henry are buried side by side. Children will enjoy making a wish at the Giants Ironing stone.
Enjoy delicious home baking and home cooked food at Mitchell's café or The Garden Tea House and finish your visit with a spot of shopping at our lovely Craft and design Shop.