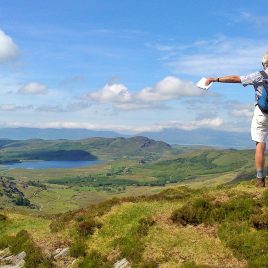 An Ireland hiking tour designed especially for you.
A hiking tour where you decide how far to walk each day, and with whom. A hiking tour where the only timetable that matters is your timetable.
Here at Hillwalk Ireland, our goal is to make your hiking trip a happy one.
We have hiked all over Ireland, seeking out the most beautiful trails and discovering the best B&B's for you to stay at. Each step you take on your Ireland hiking tour, we will have been there before you.
We'll transfer your bags, tell you all about Irish history and folklore and tell you where to find the tastiest food and the best pint of Guinness.
Remember, it's your holiday. Your job is to relax and enjoy yourself. Let us take care of the details.