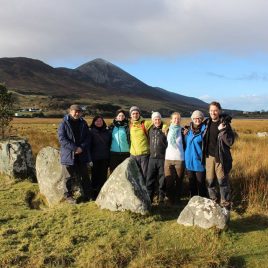 The Heritage Walks of Connemara explore the historical and archaeological aspects of this lovely area with renowned local archaeologist, Michael Gibbons.
Currently, there are three guided walks in the area of Connemara – on Inishbofin Island, Diamond Hill and the Roundstone bog. Further walks are being planned for the summer season.
Each of the three walks have been designed with the casual walker in mind. Michael brings a wealth of experience to these walks to make them fun, fascinating and entertaining, and also educational.
Island House, Market Street,
Clifden,
Co. Galway,