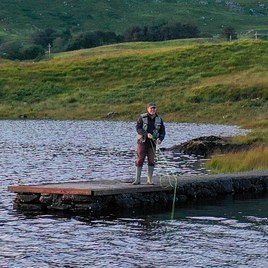 Whether you are a complete beginner or an experienced angler, we aim to provide an enjoyable and affordable trip for all levels of experience.
My name is Jonathan, I have 16 years experience teaching fly fishing, working at Ballynahinch castle and at Kylemore river and lakes, and I have also guided on the local rivers like the Erriff and Delphi and most of the lakes of Connemara.
I love teaching fly fishing and helping people get their first fish on the fly, catching a new species or learning new techniques. I believe anyone can learn if they're willing to give it a go. Often I have found that children and women learn the fastest because they listen and try suggestions.
Connemara has more lakes than you could fish in a lifetime. Some lakes with lots of small brown trout, others with sea trout and salmon. The lakes also vary in size from tiny lakes where you'll be surprised to catch hard fighting wild brownies, to the larger deeper lakes that hold double figure salmon, sea trout, brown trout and even occasionally a char.
There are also some great rivers which are some of the prettiest in Ireland, best for salmon, brown trout and sea trout fishing.
I could also bring you coastal fishing which is great for families with a higher catch rate for beginners using bait and spinners, or if you like, even salt water fly fishing which I have been really enjoying last few years.