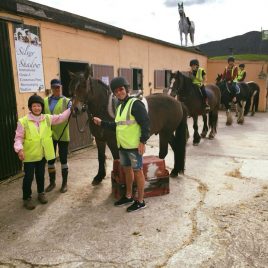 Our Riding Centre has something to offer both the novice and the accomplished rider. We provide highly qualified, experienced staff, well schooled horses and ponies, and provide a wide range of treks.
We have 1 hour, 2 hour and half day rides through rugged, yet breathtaking, Connemara landscape, beach, mountain and turf terrain. Picnic lunch rides are also available.
Children are always welcome.
Approved hats are provided and boots on request.
Open every day from Easter to October
Changing facilities available – bar & restaurant on grounds.