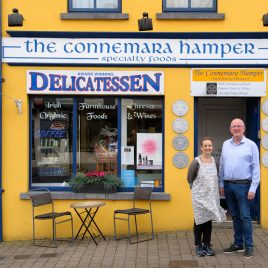 We have a store on Lower Market Street packed with of Irish farmhouse cheese, locally made jams and marmalades, local products along with a huge range of well-known brands.
Several varieties of breads including baguettes which are baked on the premises daily, our cakes and desserts come from 'Goyas' of Galway.
There is a wide choice of pates, Irish salamis and chorizo, home baked ham, Connemara smoked salmon, selection of olives, sun-dried tomatoes, humus, tapenade, all of which are used in our take away lunches.
illy coffee is also available to take away.
All our wines are organic and are from France, Germany, Italy, Spain and South Africa. The Connemara Hamper has received many accolades since it first opened in 1997, and is listed in John and Sally McKennas' guide – on the Wild Atlantic Way.