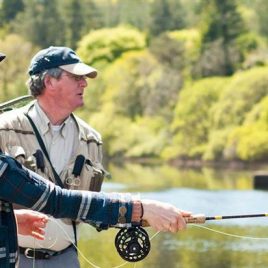 Ballynahinch Castle Hotel and Fishery is located on one of the most beautiful fly-fishing rivers in Ireland. Atlantic salmon, wild brown trout and sea trout are all available in the magnificent setting of Connemara, County Galway.
The Ballynahinch Catchment drains an area of 68 square miles and is a diverse system of interconnected loughs and rivers, drained by the Ballynahinch River and offering the very best of fly fishing in Ireland. This majestic river, with fishing rights owned exclusively by the Ballynahinch Estate, winds its way underneath the Castle for three kilometres until it reaches the wild Atlantic Ocean at Bertraghboy Bay, Connemara Ireland. All salmon and sea trout entering this magnificent system must swim up this river through the Ballynahinch Castle Hotel Estate giving Ballynahinch its world-renowned reputation as a famous salmon and sea trout fishery.
The season officially opens on 1st February and extends to the 30th September. The effective season, however, begins with a small run of large spring salmon, averaging 10lbs, in early to mid March extending into May. Ballynahinch is, however, traditionally a summer fishery. The main run of grilse (salmon that have been at sea for one winter) appears in late June with fresh fish continuing to turn up until the last day of the season. The Ballynahinch grilse are traditionally very large, by Irish standards, averaging 6-7lbs with grilse up to 9lbs being caught late in the season.
The closure of the Irish drift net fishery in 2007 has had a profound impact on the stocks at Ballynahinch with the run of salmon doubling in the first year. The average size of salmon has also increased given that the larger fish were being taken by the nets as they returned to the coast.
Ballynahinch was a celebrated fishery for its colossal catches of sea trout. During the nineties and up to four years ago the stocks of these stunningly energetic fish were seriously damaged by local salmon aquaculture and its attendant parasites. Since the downsizing of the salmon farm in the estuary, the stocks have bounced back at an alarming rate and the fishery is on the road to being one of the premier sea trout fisheries again. Catches increased by 12 fold in the first year of the recovery. The best sea trout fishing is from early June until the end of July.
Enjoy the very finest of fly fishing that Ireland has to offer within Ballynahinch Castle Hotel Estate Connemara Ireland.