Roundstone Regatta
Friday 21st July 2017

–

Sunday 23rd July 2017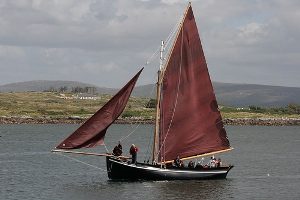 Roundstone Regatta
Each July the quiet Connemara village of Roundstone erupts in spectacular celebration of a maritime festival that dates back to the 1890s. Sails and oars propel traditional boats in two days of racing that showcase athletic skill as well as keeping alive the important role these craft have played in the islands and coastal communities over the centuries.
The Roundstone Regatta is the premier event for water sports in Connemara. Held in the idelyic and charming sea side village of Roundstone each July it features the The Galway Hooker and The Currach in races around the bay. The scene is spectacular.
Roundstone Regatta is one of the oldest, if not the oldest, traditional sea festivals in the West of Ireland, dating back to the 1890s. It incorporates both traditional sailing vessels of the West Coast (Galway hookers, leath bháid and gleoiteógs), and currach racing (rowing) from the traditional timber Currachs to the canvas racing Currachs and Naomhoga. The Regatta caters for all ages and classes of boys and girls in the rowing classes, as well as men and women.
The Galway Hooker is a boat distinct to Ireland and has unique and elegant shapes and contours. It sails through the water resembling a work of art and is a sight that many people have expressed as being magical which is why the Regatta has established an international reputation and attracts interest from all over the globe.
The distinctive rust-red sails of the Galway Hooker and flashing oars of the currach draw participants and spectators from across Ireland and even from beyond the Atlantic. These traditional sailing and rowing vessels, once used for hauling, now race for glory across Roundstone's picturesque Bertraghboy Bay and beneath the distant moody domes of the Twelve Ben Mountains.
The Roundstone regatta promises to be bigger and better this year.
Roundstone Regatta
Phone

Address

Roundstone, Galway

Google Maps Directions
---
This event listing is compiled for informational purposes only and is correct at time of publication. All event information may be subject to change by the organisers and you are advised to contact the organisers directly for the most up to date information before you travel. ConnemaraIreland.com cannot be held responsible for any alterations to the listed information.