Night Rider Sportif
Saturday 24th April 2021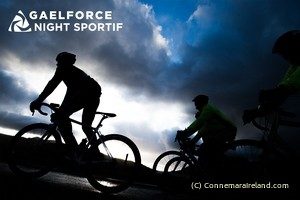 Night Rider Sportif
The new date for the Night Rider Sportif will be 24th April 2021.
With a full moon as your chaperone choose from 100km, 68km and 34km distances along this magnificent part of the Wild Atlantic Way.
The Journey
This is not a race but a journey, although it is timed. Starting just before sunset you will cycle into the darkness. This is the perfect landscape for night cycling. The darkness is complete and unpolluted but the full moon and the stars will help light your way.
The Route
You will start from Killary Adventure Centre, Leenane, Co Galway. Your route is entirely on sealed roads and will pass through huge valleys, alongside shimmering lakes and jagged coastline. Refreshment stops will be provided along the way.
The Reason
If you need a reason then there are plenty – to prove you can, to feel alive, to get away, to get back, for peace and quiet, to think, to let go, to celebrate. There are so many, you only need one. It is also just a wonderful way to spend a moonlit evening.
---
This event listing is compiled for informational purposes only and is correct at time of publication. All event information may be subject to change by the organisers and you are advised to contact the organisers directly for the most up to date information before you travel. ConnemaraIreland.com cannot be held responsible for any alterations to the listed information.