Inishbofin Corncrake Festival
Friday 1st May 2020

–

Monday 4th May 2020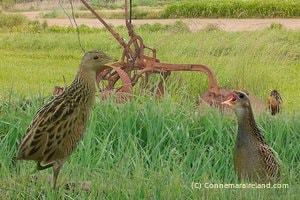 Inishbofin Corncrake Festival
The second Inishbofin Corncrake Festival takes place at The Dolphin Hotel this May Bank Holiday 1st-4th May 2020.
Following on from the success of last year's inaugural festival, the second Inishbofin Corncrake Festival aims to allow visitors to hear and see this iconic bird, while raising awareness of the plight of this endangered species.
The call of the corncrake was once a familiar sound in rural Ireland. Intensification of farming practices such as early mowing for silage have pushed these birds out to more remote unspoilt areas of Donegal, Mayo, Connemara and offshore islands.
In 2018 Birdwatch Ireland estimated only 151 breeding pairs remained in Ireland.
Conversely, on Inishbofin in Co. Galway, numbers have steadily increased, with 18 calling males reported in 2018, and 18-20 in 2019. So this tiny island is now home to over 10% of the country's breeding population. This elusive bird has become synonymous with Inishbofin.
The weekend will include early morning and afternoon walks to corncrake habitats, led by well known birder, photographer and author Anthony McGeehan. Anthony will be exhibiting some of his stunning bird photographs at the Dolphin Hotel over the weekend.
There will be after dinner talks and midnight walks to hear the nostalgic crex crex call.
As well as corncrakes, the beautiful island of Inishbofin attracts breeding birds such as wheatear, skylark, chough, lapwing and ringed plover.
No better place to celebrate International Dawn Chorus Day on May 3rd than Inishbofin!
Beginner birdwatchers welcome.
Inishbofin Corncrake Festival
Phone

Address

Inishbofin, Galway

Google Maps Directions
---
This event listing is compiled for informational purposes only and is correct at time of publication. All event information may be subject to change by the organisers and you are advised to contact the organisers directly for the most up to date information before you travel. ConnemaraIreland.com cannot be held responsible for any alterations to the listed information.