Féile Cloch na Rón Regatta
Sunday 21st July 2019

–

Monday 22nd July 2019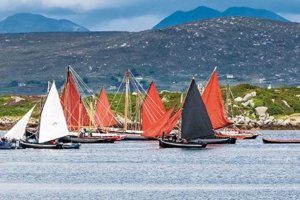 Féile Cloch na Rón Regatta
Traditional Sailing Boats Festival displaying unique Irish boats. The Galway Hooker is the traditional boat of Galway built of strong and hardy oak to withstand the rough seas of the Atlantic.
The boats are easily recognised by their strong sharp bow and sides that curve outwards. They have one main sail and two foresails all on a single mast. It's a gaff-rigged sailing boat meaning the sail is four-cornered, fore-and-aft rigged, controlled at its peak by a pole called the gaff.
Traditionally painted black with eye-catching red sails these beautiful boats are something to behold. They have become a much-loved symbol of Galway, something unique to the county.
Gleoiteoga Móra & Beaga Race on Saturday at 3 pm.
Báid Mhóra & Leath Bháid Race on Sunday at 3 pm.
More Information on the Galway Hookers Association Facebook Page.
Féile Cloch na Rón Regatta
Phone

Address

Roundstone, Galway

Google Maps Directions
---
This event listing is compiled for informational purposes only and is correct at time of publication. All event information may be subject to change by the organisers and you are advised to contact the organisers directly for the most up to date information before you travel. ConnemaraIreland.com cannot be held responsible for any alterations to the listed information.