Connemara Western Way Annual Walking Marathon and Half Marathon
Saturday 17th August 2019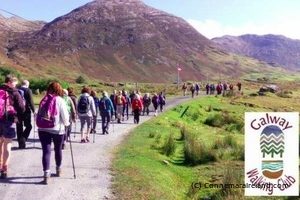 Connemara Western Way Annual Walking Marathon and Half Marathon
Registration is now open to members and non-members for our Connemara Western Way Annual Walking Marathon and Half Marathon. Our Walking Marathon takes place in some of the most scenic places in Connemara!
The meeting point for registration and bus collection is at Maam Community Centre and the route is from Killary to Maam Valley mostly along the Western Way. It is mainly a flat walk, the highest point being Maumean at 259 meters, and while about one-third of the walk is on the road the route is chiefly on green road or forest track.
There are spectacular views of Killary Fjord, the Maumturks and the Twelve Bens along the route and the walk is a terrific way to experience this part of the country.
All participants receive a well-earned meal in the Maam Community Centre on completion of their walk.
Meeting Point: Maam Community, Teernakill North in Connemara, Co. Galway.
Time: Meet between 7am – 7.55am for the Full Marathon.
Meet between 8.30am – 9.25am am for the Half Marathon
Open to: We welcome members and non-members alike on our annual marathon
Price: €30 per person – this includes your bus and meal.
Registration: Pre-Registration is required. Register on Eventbrite
Further Information:
Registered participants can collect their numbers on the morning of Saturday 17th August from the Maam Community Centre, Teernakill North, Maum, Galway at the following times:
Full Marathon: Between 7 and 7.55 a.m.
Half Marathon: Between 8.30 and 9.25 a.m.
Walkers will be taken by bus to the start of the walk. The bus for the Full Marathon departs at 8.00 a.m. and the Half Marathon bus departs at 9.30 a.m.
All participants should bring a packed lunch and water and have walking boots and rainwear. Runners for the road sections is also an option. Water bottles can be refilled at check points. For safety reasons please let those manning the nearest checkpoint know if you wish to drop out at any stage of the walk and transport will be arranged back to the centre to " Check In."
CHECKPOINT 5 WILL BE OUR CUT OFF 5.00 P .M. SHARP
A meal will be provided for all participants at the Maam Community Centre on return. Refreshments and water provided at Checkpoints 2, 3, 4, 5 and 6. See "Checkpoints" on our brochure on our website here.
NO DOGS ALLOWED
For any further details on the marathon please visit our website here or contact:
Jerry Lalor the Marathon Coordinator at [email protected]
Registration for the event closes on Thursday 8th August 2019.
We would appreciate responses from those intending to participate by that date in order to be able to guarantee a seat on the bus taking walkers to the walk start.
We look forward to hearing from you and hope you enjoy your day with us.
---
This event listing is compiled for informational purposes only and is correct at time of publication. All event information may be subject to change by the organisers and you are advised to contact the organisers directly for the most up to date information before you travel. ConnemaraIreland.com cannot be held responsible for any alterations to the listed information.