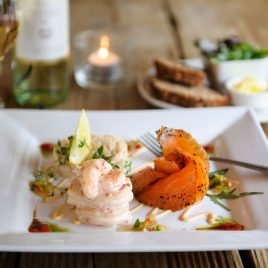 Veldon's Seafarer award-winning bar and restaurant is located in Letterfrack village at one of the main crossroads in Connemara – the heart of Connemara! We are located along the Wild Atlantic Way where the landscape is shaped by the sea and the local characters are full of creativity and chat.
The bar has been a hub of activity for many years with Veldon's Bar also being main grocers in the area. The old shop is now our great new restaurant.
Great food is served all day in the bar and we also have a separate cafe/restaurant.
We are perfectly located for a quick coffee and sandwich before you carry on with your journey, a hearty steak after you have conquered Diamond Hill, or make a weekend of it and enjoy the ambiance of our restaurant followed by a pint in the bar.