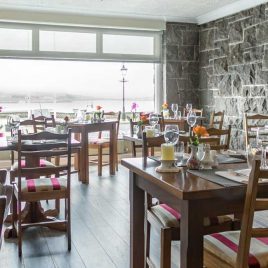 Vaughan's restaurant is acclaimed worldwide for its exquisite award winning food and fine wines. It is credited with 2 Rosette by the Automobile Association and is a member of the prestigious BIM seafood circle and Georgina Campbell Guide. We are lucky that we have built up a great mix of local loyal followers and also attract a lot of tourists visiting Roundstone from within Ireland and aboard.
The dining room is decorated with an impressive art collection and candle lit tables, boasts panoramic views of Roundstone Bay, Inishnee Island and the rugged mountain range of the Twelve Bens.
The chefs use the best in local and in season ingredients for their delectable menu in both the restaurant and bar.