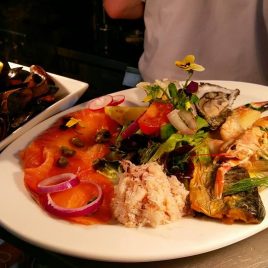 Food is hugely important to us here. Our menu was created with two core values in mind; to use fresh seasonal locally sourced produce and to satisfy each customer with hearty, tasty, home cooked dishes.
Even with fresh, modern twists, the menu retains the old favourites such as Fish & Chips and Fish Chowder as well as some exciting Lunch/Evening Specials.
However, although Seafood is our speciality, our talented kitchen team can rustle up tasty alternatives such as Connemara Lamb dishes, fillet of Beef or Duck to produce the finest menu in a coastal yet mountainous area.
The Bar Management Team pride themselves in specially selecting some of the finest locally and nationally hand crafted beers, ales and ciders as well as offering a large selection of Whiskeys and Wines from around the world to complement our menu and satisfy our Customers' needs.