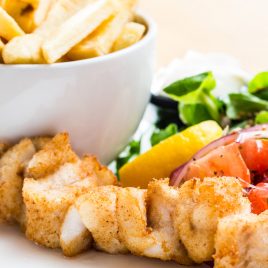 Our bar on Inishbofin has been established for the best part of a century, has passed through four generations and has always had a warm welcome for landlubbers and seafarers alike.
The Bar and B&B are located on the waterfront, a stone?s throw from the sea and less than a four minute walk to the ferry which arrives and departs several times daily.
The bar has a lovely warm welcoming feel to it, with an open fire, a great pint of Guinness, a selection of beers and spirits from all over the globe and an ever-expanding list of wines from the old and new world with something to please every wine lover.
Bar food is served till late every day. The wide-ranging menu is based on locally caught, sustainable seafood and local produce where possible. Inishbofin Caught Lobster, Crab, Mackerel and Pollock feature on the offerings from local waters with most of our fish caught off the coast of Connemara or Galway.