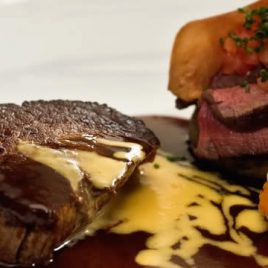 The hotel restaurant features a wide range of Irish and Continental cuisine.Irish beef, Connemara lamb and game dishes feature alongside seafood dishes using fresh fish caught daily off our shores.
The wine list is extensive and offers a selection from the best European vineyards complemented by a wide selection of "New World" wines.
Tim O'Sullivan, our Head Chef for over 20 years and a Commissioner of Eurotoques Ireland. Tim is an award winning chef and has previously won the Best Chef in Connacht at the National Food & Wine Awards.