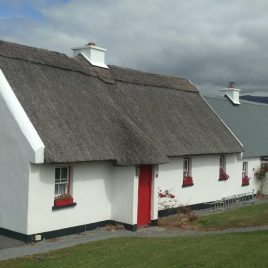 Picturesque Renvyle, Connemara on the edge of the Atlantic is the threshold to a paradise for the family, sportsman, botanist, geologist, antiquarian and lover of Irish traditional music.
Your cottage is a romantic blend of the rustic and ultra modem, combining the traditional design of the authentic Irish thatched cottage and home comforts like an all-electric kitchen and central heating throughout. The area has a variety of good shops, pubs and restaurants. Babysitting, cleaning and other optional services can be arranged. Cots on request. Washer/Dryers and colour T.V.'s. Pets welcome
Within fifteen minutes drive from the village you can enjoy the luxury of Grade A hotels; uncrowded beaches; the finest fresh water angling in Europe.