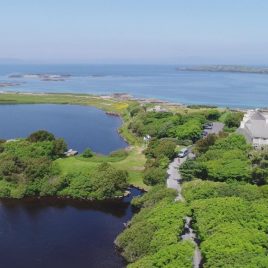 The Renvyle House Hotel and Resort, a perfect place to holiday in Connemara on the shores of Ireland's Wild Atlantic Way.
Renvyle House is a four star, family owned, historic country house resort, first opened as a hotel in 1883 and is spectacularly located on a 150 acre estate on the shores of the Atlantic.
The warm main hall, with its oak floors and beams and open turf fires, is welcoming and relaxing. The Long Lounge and Conservatory with views of the Connemara landscape offer you a quiet place for undisturbed reading, mid-morning coffee or our renowned afternoon tea.
The bedrooms vary in size and style but all in keeping with the features of the historic house. The characteristics of the Arts & Crafts movement are simple, clean lines and the
use of solid Irish oak and furniture are apparent throughout. The fabrics and furnishings are, as much as possible, made and woven by skilled local craftsmen.