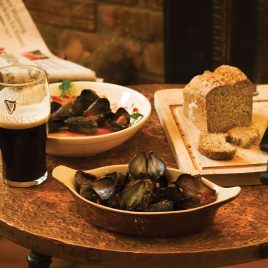 Paddy Coynes Pub is a beautiful traditional pub set in Tullycross.
The pub is perfect for anyone looking for a good pint. Whether you fancy a quiet pint in St. Anns (the snug) or a bowl of fresh mussels by the fire, you will always be greeted with a warm welcome.
The pub is like a mini museum, where you notice a different artifact on every visit, that always bring up new topics of conversation.
We are renowned for our great food & we pride ourselves on serving as much locally sourced produces as we can and even have our own vegetable and herb garden.