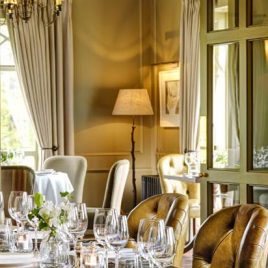 There are few restaurants in Ireland that enjoy an aspect as breath-taking as the Owenmore at Ballynahinch Castle. Overlooking the magnificently appointed terraces above the majestic Salmon River the Owenmore Restaurant offers a relaxed elegance that reflects the subtle understated sophistication of the kitchen.
Our chefs extract the very best in flavour and texture from the abundance of wonderful produce the region has to offer. Cooking with a sophisticated and light touch without over complicating their dishes the team present the very best in Irish food.
A visit to the Owenmore restaurant is a treat for all the senses. Following a considered and elegant refurbishment guests can feast their eyes on the beautiful collection of art that adorns the walls, complementing the artistry of the kitchen works.
While savouring the delights of the kitchen you can take in the works of Gerard Dillon, Louis le Brocquy, Jack Yeats , Mary Swanzy, Walter Frederick Osborne, William John Leech and Leo Whelan. A thoughtful and subtle collection that sits comfortably in this most beautiful of restaurants.