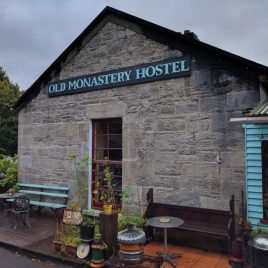 The Old Monastery Hostel opened in 1990 and since that time has built up a well deserved reputation for warmth and hospitality.
The owner, Stephen Gannon, has created a relaxed and cosy atmosphere in a rambling country house originally built by Quakers in the 1840's. A collection of artworks created by guests adorns the hallway; the spacious self catering kitchen adjoins a comfortable living room with couches beside the open fire for cuddling up on, candles on the mantelpiece and a majestic view over the village of Letterfrack towards Tully Mountain and out across the sea to Inish Bofin.
There is plenty of space for relaxing at the hostel, including alfresco dining areas and lounges to flop into after a fabulous day exploring the surrounding area.