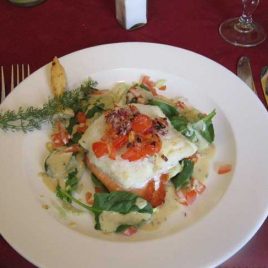 We pride ourselves on the freshness of our locally sourced ingredients. Fish fresh from the pier, locally reared meats and speciality foods from Connemara and the surrounding Irish countryside.
Connemara is blessed with the best of natural produce: Oysters and Crab from Aughrismore, Scallops and Lobsters from Cleggan village, delicious lamb from the renown Connemara Blackface sheep, succulent fillets and sirloin of Connemara Beef, and much much more.
All of this produce goes into Off The Square's fabulous meals. Be it a coffee and delicious pastry, a light lunch or a full, fine dining experience, Off The Square Restaurant has something for you.