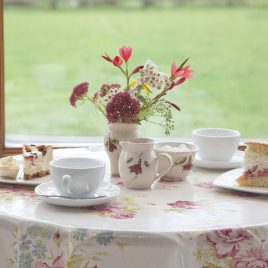 Mitchell's is a modern self service café which maintains the tradition of good food and warm welcome which is an important aspect of Benedictine hospitality.
From a quick coffee stop to a full hot meal our menu features something for everyone. Our hot buffet serves delicious lunches including, vegetarian dishes, a selection of quiches, pasta and fish and traditional favourites such as Irish stew. We are rightly renowned for our delicious homemade soups and award winning scones and breads.
Located on the famous Kylemore Abbey estate, the style and grace of the Abbey have inspired the interiors of Mitchell's Cafe. Our chefs use fresh vegetables and herbs collected from the 6 acre Victorian walled garden on the estate and source ingredients locally where possible. We proudly serve only 100% Irish meat and vegetarian and celiac options are always available.