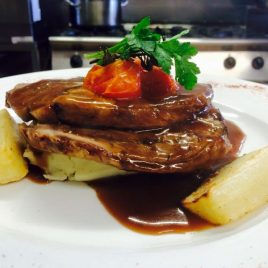 At our restaurant, we bake fresh Connemara bread and scones every morning and use only the finest pure Irish butter and local Connemara free range eggs. We have a strong belief in providing you with local gourmet craft produce from Connemara such as our jam which is produced four miles down the road from Letterfrack in Moyard. We use Achill Island sea salt on our tables and in our kitchen.
We also believe in healthy eating and source as much organic produce as possible such as our organic Connemara Mountain Lamb from Leenane (15 minutes from Letterfrack) and our organic salads that are grown beside the sea in Cleggan (10 mins from Letterfrack).
We grow our own mussels in Killary Harbor (10 mins from Letterfrack) and know the people that catch our fish and lobsters locally.Our menu is a selection of generation-old Connemara recipes that have been artfully tweaked to perfection, combined with a number of Stuart?s own wonderful creations.
Almost everything on our menu is made in-house from scratch by our head chef and his team. Our signature chips are hand cut with skins on for added flavor and our breathtaking skewers are meticulously prepared daily. Our Lobsters are fresh from the tank.