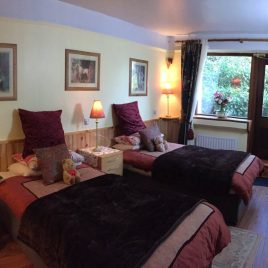 Enjoy our unique tranquil and serene mountain-side retreat surrounded by woodland & wildlife.
We promise, rest, and renewal to one and all as a refreshing change from your typical hotel. Wake up each morning to the comforts of home, linger over a second cup of coffee whilst enjoying our stunning views.
Situated on almost 5 acres. overlooking the Inagh Valley, voted by Lonely Planet as one of Ireland's most scenic drives. Modern Amenities, complimentary Wi-Fi, free parking, all round good value here in Connemara.
The eleven bedrooms are warm and comfortable; all are en suite with television and tea/coffee-making facilities. The front bedrooms have stunning views, Three bedrooms have balconies and five have outside garden access.