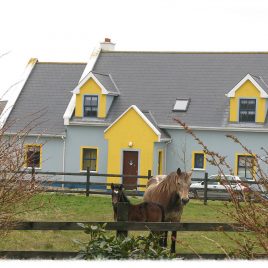 Kermor is the name of the house meaning "home of the sea". The guest's rooms are on the second floor. We offer 2 big, spacious family rooms with en-suite bathrooms and 2 smaller rooms with a shared bathroom perfect for families with teenagers or friends who don't mind to share a bathroom.
Kermor house is located in Claddaghduff, near Clifden, capital of Connemara. Kermor is a blue and yellow house, facing the sea and viewing the famous 12 pins.
A quiet and friendly ambiance, quality breakfast with gluteen free and dairy free possibilities. It is where you are very welcome !