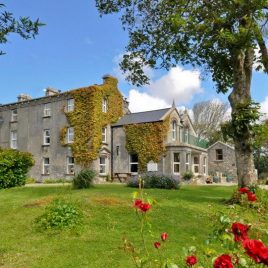 Errisbeg house is the home of Richard 7th Duke de Stacpoole nestling below Errisbeg Mountain sitting on three acres of gardens. The house was originally built as a two story hunting lodge in 1875 by Joseph Clogherty of Roundstone.
You can stay at Errisbeg House all year round (subject to availability) on a bed and breakfast basis (minimum 2 nights). Each room offers a private bathroom, along with distinctive, antique furniture and Victorian marble fireplaces. All rooms enjoy views over the gardens and complementarity wifi is included.
Errisbeg House nestles below Errisbeg Mountain, 1 mile from the Atlantic Ocean, amidst breathtaking Connemara Scenery in a secluded but accessible position.