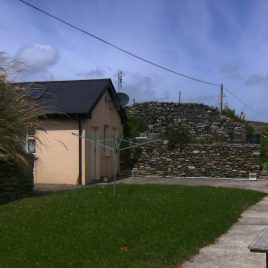 Seagull & Oyster Cottages are located on the beachfront at the eastern side of the island. The beautiful safe sandy beach stretches right around Horseshoe Bay. It's literally only feet away and you can keep a watchful eye on your children as they play or swim safely. With a perfect view of the entire beach from the front doors peace of mind is guaranteed.
The soft silver sand stretches right around this peaceful Bay. Walk barefoot on a perfectly clean beach in the warm soft sand, yet the lapping waves are only feet away (depending on tides). Collect shells, examine rock pools or build sand castles.
The cottages are recently refurbished yet still retain that delightfully unspoilt feeling. Oil-fired central heating has been installed for the occasional cool evening and there's a wood burning stove for those that like the glow of a real fire. The cottages now have Wi-Fi Broadband and Satellite FTA channels + Terrestial Digital TV service.
Both cottages have rear door access to a large sheltered garden. The large garden area is great for dining al fresco or just lounging in the afternoon sun. Shared facilities include Laundry Room (separate washer and dryer) plus an additional outside toilet.
Seagull Cottage (sleeps 7) in a double room, a double sky bed and single and bunks in a wide hall. Living room/kitchen and bathroom with electric shower.
Oyster Cottage (sleeps 4) in a double room and nook for bunks, living room, kitchen, bathroom with electric shower.