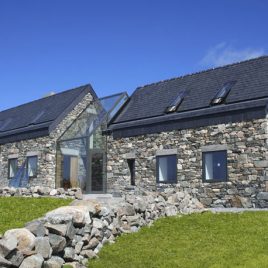 Dolanstown is situated on the beautiful West Coast of Ireland on its own fifteen acres of rocky fields, surrounded by traditional Connemara loose stone walls.
The land sweeps down to a large, secluded, sandy beach – usually deserted – which is ideal for swimming, snorkelling, fishing and sand castles. The fields display a profusion of wild flowers in season.
There are no other houses in the immediate vicinity and Dolanstown is well away from the main road, approached by a long winding boreen.
Dolan,
Roundstone,
Co. Galway,