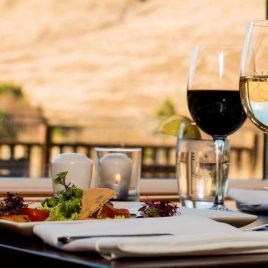 Food is central to the Delphi Resort experience. With so many adventure options on offer, it's no surprise that our food menus are just as varied and full of exciting things to try.
Delphi Resort is surrounded by stunning countryside and fertile waters. The west of Ireland is rich with local farms and growers; thanks to them our menus boast the finest fresh produce, organic Irish lamb and beef, and seafood from the Killary fjord and Connemara shores.
We've got two dining options to choose from:
The 814 Brasserie
Indulge with the finest Irish gourmet foods in the The 814
Wild Atlantic Cafe
Fire up your day with coffee, snacks and lunch at the Wild Atlantic Cafe
Dining facilities are open to both guests and the public.