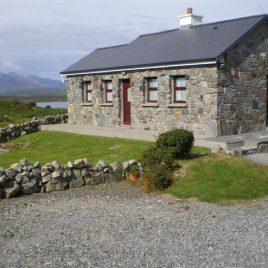 Cill Cottage is ideally located in the heart of the Connemara Area, 47 miles West of Galway City and 4 miles from the picturesque village of Roundstone, on the unique island of Inishnee – which is Joined to the mainland by bridge at all times.
Cill Cottage is a Luxury Romantic Stone Cottage, fully renovated on the interior, in May 2016. All interior fixtures and fittings have been updated to a very high standard to promote a very modern and comfortable cottage. Cill Cottage is located on a very large site, overlooking the sea, with direct access to the seashore, and surrounded by green fields.It is truly an Ideal getaway.
The Cottage offers breathtaking views of The Twelve Bens and the sea from all rooms inside! You can watch the sunrise from the bedroom window !
It comprises of:
One large well appointed bedroom with king-size bed.
Large picture window facing the seashore.
New modern Fully-fitted ivory kitchen,
Spacious and very cosy sitting room with an open solid fuel fireplace,
NEW Samsung 40 " SMART LED TV – access many channels via WIFI.
DVD & CD Player
Very Comfy Electric Leather Reclining couch
Double glass doors to an a-joining patio area.
Large bathroom with storage room attached.
Cill Cottage sleeps 2 people, and is available all year , minimum stay is 2 nights. Also available long Term. Suitable for Couples