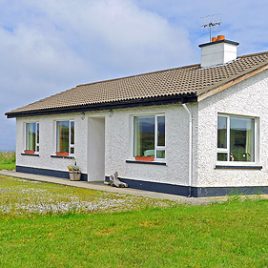 The setting is breathtaking -just at the top of a smooth hill – and the views are definitely stunning, with a 360 degree panorama from the mountains – Tully Mountain and the Diamond Hill – to the sea – Crump Island and Inishturk: actually a real taste of the west of Ireland.
Although you get the feeling of living in the wilds of Connemara, a short walk will bring you to Tully Cross and Tully villages with their pubs, well stocked shops and restaurants.
The cottage offers all modern features that you would expect in a house of this quality, with a pleasant touch of stilish "retrò" furnishing. Two double bedrooms, one twin room. Sitting room with open turf fire, comfortable and cosy furniture, TV – DVD set. Very attractive fitted kitchen – dining area, with stove and TV set; dish washer and washing machine. Large bathroom with shower.