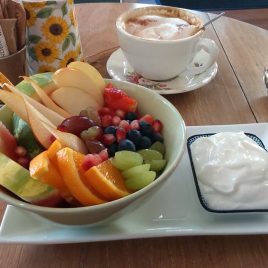 The Bogbean Café, located in Roundstone Village, on the edge of the wild Atlantic and surrounded by stunning mountain views, is the perfect place to enjoy a traditional Irish breakfast with friends and family, perhaps some homemade soup for lunch, a frothy hot chocolate with the kids, or why not enjoy a pot of tea with a home-baked scone while you relax and read the paper.
With so much natural beauty on the doorstep to explore and immerse yourself in; whether you fancy hill walking in the nearby Connemara National Park, a gentle stroll along Dog's Bay Beach or a kayaking session with Roundstone Outdoors along our beautiful coastline, you're bound to work up a hearty appetite.
We cater to a variety of tastes and pride ourselves on offering fine homemade food and great coffee using local producers for our ingredients where possible.