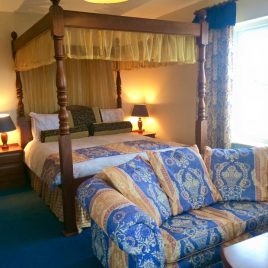 The Bogbean Café and B&B is located right in the heart of the village with views overlooking the mountains and the bay.
Our luxurious rooms are all ensuite with tea and coffee making facilities. All of our rooms have a double bed and three of the rooms also have single beds. Our room's feature bespoke furniture designed and produced locally in the village by Beola crafts. One of the rooms is furnished with a four-post king size bed.
All of the rooms have free WiFi access.