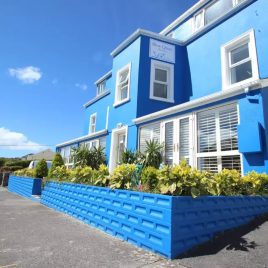 Blue Quay in Clifden's is nearly 200 years old and all but one of the bedrooms has a view of the harbour. All rooms have good showers with new plumbing.
Only a three-minute walk into town where you will find a good selection of places to eat, bars, restaurants, etc. and many good shops.
Blue Quay can accommodate small groups of up to 22 people. The entire house can be rented for private parties by arrangement. Please note that there are no ground-floor bedrooms or lifts. Not suitable for pets or children under 12 years old.