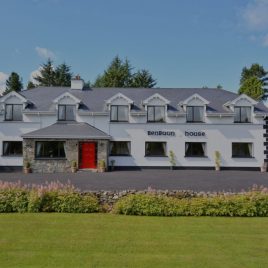 Benbaun House is a Self-Catering Holiday Home in Connemara, owned and managed by the Lydon Family since 1974. We have been extending a traditional family hospitality to our guests since then.
Brendan Lydon and his family now invite you to enjoy the affordable luxury of Benbaun House, set well back from the road in mature, leafy gardens and only 3-minute walk into Clifden Town Centre.
Benbaun House has 12 bedrooms and is approx. 7,000 square feet in size. The house can accommodate up to a maximum of 25 people, including adults, teenagers, children and toddlers.