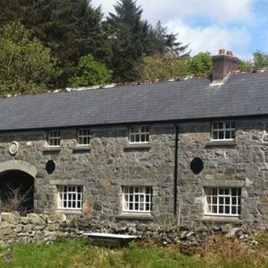 Ballynahinch Stables are four stone cottages situated within the private grounds of Ballynahinch Castle Hotel. Built in 1895 when Ballynahinch Castle was a private residence, these were originally private stables but were later converted into small cottages.
The cottages have been well maintained throughout their history and were most recently renovated in 2012. They are offered as rental accommodation for small or large groups.
Ballynahinch Stables are located in the grounds of Ballynahinch Castle Hotel, Connemara, Co. Galway.
The property is centrally located along the Owenmore River within easy reach of many local attractions: Roundstone village (10 mins), The Twelve Bens Mountain Range (10 mins), Clifden Town (15 mins), Dogs Bay and Gurteen Beach (15 mins).
Ballynahinch Castle Estate,
Ballynahinch,
Co. Galway,